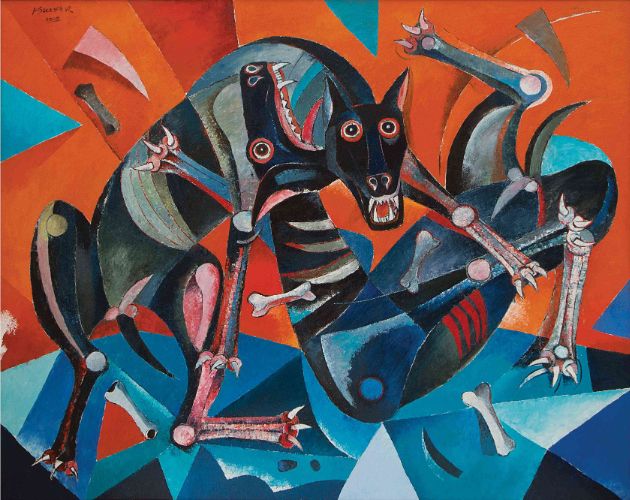 The Stories Behind Ang Kiukok Artworks
What are the stories behind these Ang Kiukok artworks?
Man

Mother and Child

Trees
National Artist Ang Kiukok is known for paintings that show iterations of anguish – unsettling scenes that combine Cubism and Expressionism with a masterful flair. His prominence is underscored by the number of awards that he received and the exhibitions he was featured in. 
In the Philippine art scene, Ang Kiukok artworks are some of the most coveted in the market. Serious collectors and even casual art enthusiasts flock towards the paintings of this important Filipino artist. 
The appreciation for Ang Kiukok's paintings, however, don't stop at the aesthetics of these pieces. Many would ask: what are the stories behind the paintings? 
Here, we discuss some of Ang Kiukok's works and the stories behind them.
Man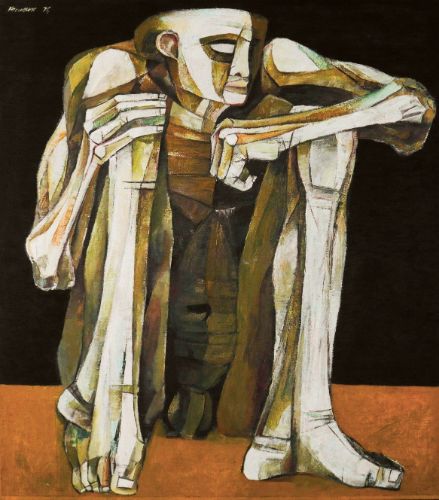 ANG KIUKOK,
Man
,1978, Oil on canvas
The subject's lack of clothing, hair, and eye color, along with the use of earthy tones, gives an unnatural appearance that evokes a melancholic feeling. Perhaps it is the use of lines and geometric shapes, which accentuate the subject's rigidity, that communicates a sense of purpose and durability.  This figurative expressionist painting simultaneously captures and distorts the essence of the human figure without making it unrecognizable.
This painting was actually done as a commission for Jose Molano, a government executive and the husband of jewelry artist Celia Molano, a friend of Ang Kiukok's. Molano once helped Ang Kiukok – a naturalized Filipino – secure immigration papers through a mutual friend. Jose Molano asked Ang Kiukok to paint something that would reflect his anticipation of another job position: an assignment at the United Nations. This painting was the result. New knowledge enlightens the viewer, to whom the subject's anticipation and anxiety is suddenly made known.
Mother and Child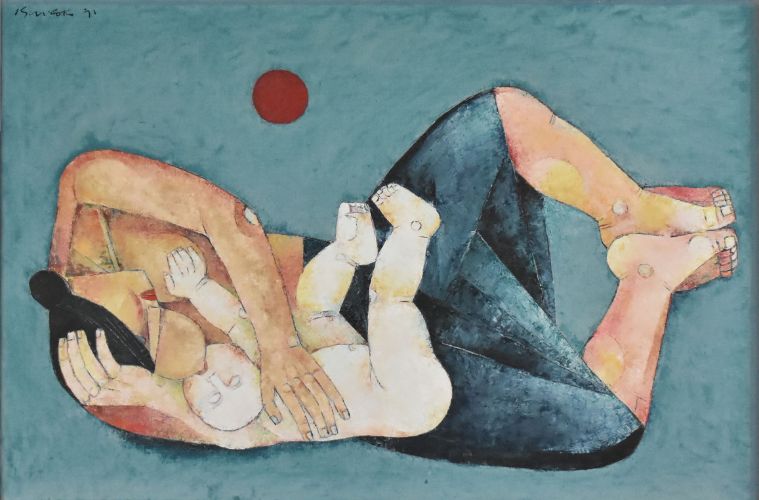 ANG KIUKOK, Mother and Child
, 1993, Oil on canvas
This version of Mother and Child is one of Ang Kiukok's more tranquil artworks. The familial motif was not as prominent in his earlier, grittier works, but Kiukok was still able to capture the strong bond between a mother and a child. The piece exhibits a masterful execution of balance and composition – the central figures share the canvas with a familiar crimson sun above. The tight embrace elicits a strong emotional response from the viewers, reminding them of the strongest bonds in nature.
This painting was another commission by a collector-friend of Ang. The collector, then taking an art appreciation course at the Ateneo, reached out to Ang Kiukok for an interview. Ang's agreement to that visit marked the beginning of their friendship. He commissioned the artist without giving any specifications, and it gave birth to this masterpiece. It was Kiukok's reimagined version of the classic motif which the collector did not expect at all. It was done in a period when the artist's style was transitioning from focusing on darker subjects to lighter, more emotive themes.
Trees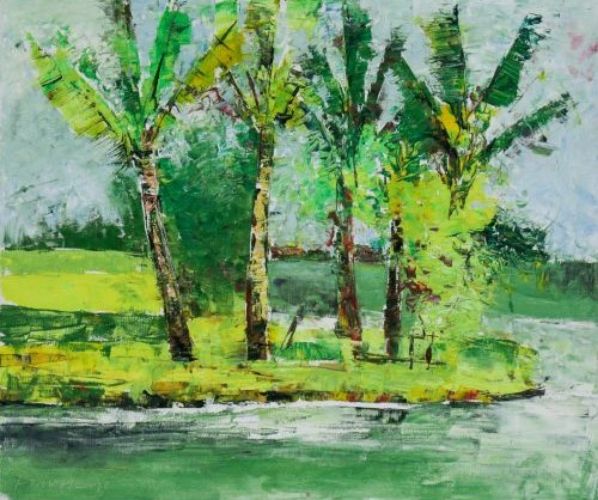 ANG KIUKOK, Trees, 1931, Oil on canvas
Trees is an oil on canvas landscape painting that uses lighter hues and an airy, spacious composition. The scene shows several trees at a distance on a sunny day. This artwork is another one of his paintings that deviates from his usually darker themes. His deliberate impasto on the canvas reflects his mastery of brushwork and compositional articulation. He applies his experience in using Cubist techniques to paint the image of light. With that, he successfully communicates a sunny day amongst the trees.
This painting is another of Ang Kiukok's works that involves his friends. He was a part of the Saturday Group of artists, which included H. R. Ocampo, Cesar Legaspi, and BenCab, who had weekly art-making sessions. The piece is a depiction of the Corinthian Gardens Village park, which Ang painted as a gift of appreciation to their host, who was also a novice member of the group. He had borrowed art materials from her and wanted to return the favor. As a result, we gain a deeper and more in-depth appreciation of this beautiful landscape by a National Artist.
Key Takeaway
One of the biggest pleasures of art collecting is being a part of an artwork's history. As art enthusiasts, we appreciate and even yearn to know the stories behind every painting. The selected Ang Kiukok artworks featured in this article prove that once you know the circumstances behind a painting, your perception of its meaning and, in many ways its value, changes. You will have to agree that you are seeing the paintings in a different light now after having read their stories!
Art is about communicating and storytelling. When you collect art, you also collect life stories, experiences, and emotions that you may have yet to explore. It can forge lasting friendships and relationships, and it can even help some feel heard. If you want to be a part of an artwork's history, then Salcedo Auctions is the place to be. As the country's premier auction house, we offer the finest artworks from the leading artists in the Philippines; and all you have to do is click here to view our catalogues and events. Or, you can send us a message through this link if you have any inquiries.
---