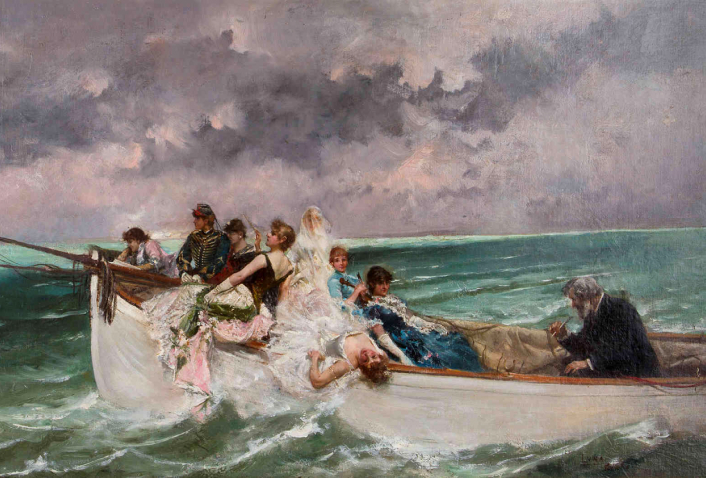 JUAN LUNA Y NOVICIO, ¿A Do…Va la Nave?, Oil on canvas
Salcedo Auctions: The Artworks of Juan Luna, the Most Important Filipino Artist
Salcedo Auction presents the artworks of Juan Luna de San Pedro y Novicio Ancheta – better known as Juan Luna or Juan Luna y Novicio.
Juan Luna was born in Ilocos Norte in 1857, and was a prominent Filipino painter, sculptor, and activist of the Philippine Revolution during the late 19th century. 
The Life of Juan Luna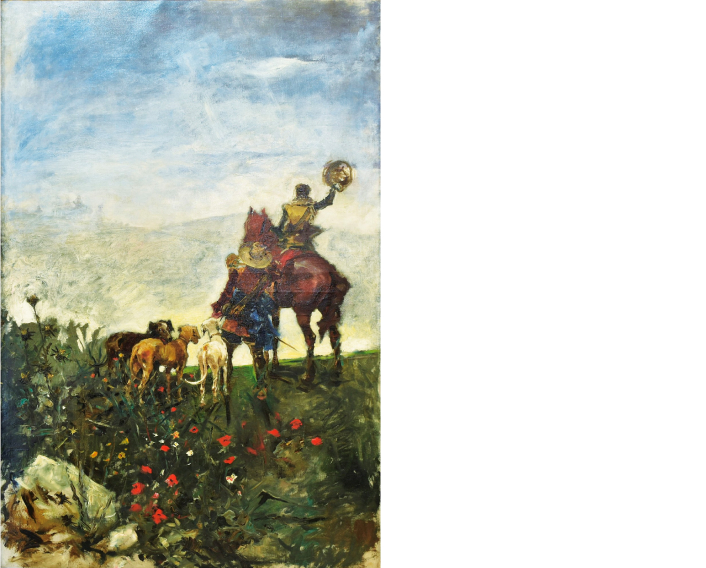 JUAN LUNA Y NOVICIO, 'The Hunting Party', 1880, Oil on canvas
Juan Luna first received painting lessons in 1873 from Academia de Dibujo y Pintura under Fr. Agustin Saez, who recognized his natural talent. Soon after he began his classes, his parents were persuaded to send their son abroad for advanced tutelage. Luna left for Spain in 1877.
He entered the Escuela de Bellas Artes de San Fernando in Madrid, where he soon started private lessons under Alejo Vera, a famous Spanish painter. Vera had high regard for the talent and works of Luna and took him to Rome to undertake commissions.
While in Rome, Luna widened his knowledge and skill through his exposure to the works of the Renaissance masters and the Academies. It was in Rome where Luna would begin to gain international recognition – his fame growing when he won the First Class Medal at the 1884 National Fine Arts exhibition in Madrid for Spoliarium — which is now a Philippine treasure hung proudly in the main exhibition hall of the National Museum.
Juan Luna's Famous Artworks


JUAN LUNA Y NOVICIO, 'Study of Death of Cleopatra', 1880, Oil on canvas
Juan Luna is the first internationally recognized Filipino artist and is widely considered to be the most important artist from the Philippines. Some of his finest artworks are showcased in prestigious museums, such as the National Museum, the Ayala Museum, Yuchengco Museum, and the Lopez Memorial Museum.
La Muerte de Cleopatra
La Muerte de Cleopatra was one of Juan Luna's first artworks, made in 1881. Entered into the Exposición Nacional de Bellas Artes in Madrid, it was awarded a silver medal. The contest and entry were a first for Juan Luna and gained him significant exposure. As a result, he received a scholarship at the Ayuntamiento de Manila. After the exposition, Luna sold it for 5,000 Spanish pesetas, the highest price for a Filipino painting at the time.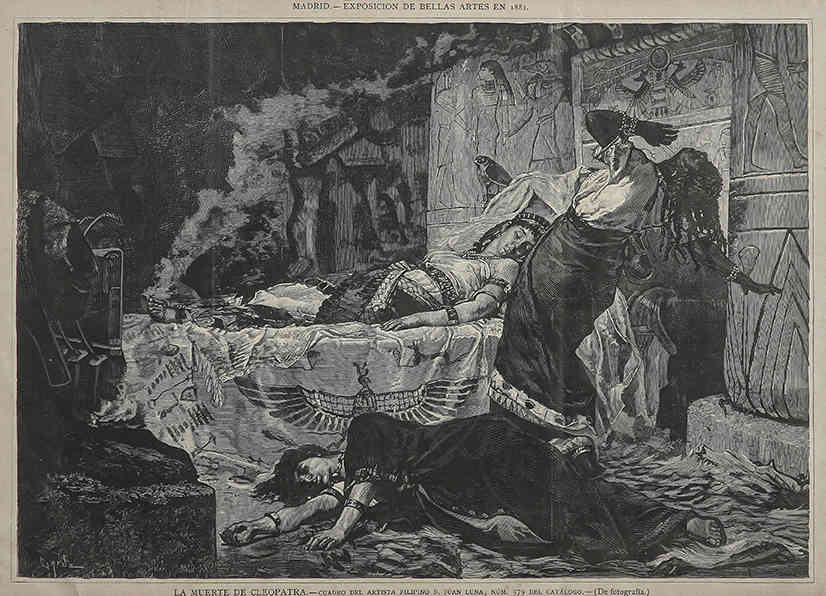 A LITHOGRAPH FEATURING 'LA MUERTE DE CLEOPATRA BY JUAN LUNA Y NOVICE

Spoliarium
Without a doubt the most famous artwork by Juan Luna, and arguably the most widely known artwork in the Philippines, Spoliarium is a grand painting depicting a bloody scene of dying gladiators, their bloodied remains being dragged out from the Colosseum having entertained their Roman masters with their lives. Submitted to the Exposición Nacional de Bellas Artes in 1884 in Madrid, Luna garnered the First Gold Medal. Spolarium was then sold for 20,000 pesetas to the Diputación Provincial de Barcelona. It currently hangs in the National Museum of the Philippines and is the first to greet visitors upon entry into the museum.
The Blood Compact
One of the main themes of the artworks of Juan Luna was the struggle of revolution and wars that happened throughout his lifetime. The Blood Compact expressed the depressive socio-political environment at the time. Luna intended to highlight the intimate relationship between two parties partaking in a native ritual of Sandugo. Depicted without his helmet on, Legazpi appears tactful, submitting to the local culture. On the opposite side, Sikatuna is displaying his imposing figure and intricate tattoos, signifying the presence of a brilliant pre-Hispanic civilization. This presents a shared destiny between Spain and the Philippines as allies of equal status.
España y Filipinas
Juan Luna's artworks were not all about his frustrations and struggle with revolutionary ideas. He also expressed longings for peace and prosperity, especially between his homeland and Spain. Luna's fervent wish is strongly depicted in his "Espana y Filipinas" paintings. It is an allegorical work, using two female figures to represent the colonial relationship. While Spain is shown as guiding the Philippines up the stairs, the two figures are nonetheless similar in stature, beauty, and dignity. 
It is important to note that the National Gallery of Singapore's 'España y Filipinas' and Juan Luna's 'Boceto for Spoliarium' come from the same family. This was confirmed through email communications from the family that sold 'España y Filipinas' at the Balclis auction in Barcelona in October 2012 under the title 'España guiando a la gloria a Filipinas,' and which was eventually resold under the title 'España y Filipinas' at the Sotheby's Hong Kong 40th Anniversary Evening Sale in October 2013, where it was acquired by the National Gallery of Singapore for its permanent collection.
The emails clearly state that both 'Boceto for Spoliarium' and 'Espana y Filipinas' all form part of a family collection that was inherited from Doña Maria Nuñez Rodriguez, the widow of Don Francisco Vazquez Gayoso, and who Salcedo Auctions had previously identified as the daughter-in-law of Don Jose Vazquez Castiñeira.
Salcedo Auctions knows that strong documentary and photographic evidence are building blocks for establishing authenticity, because excellence and trust matter. The sale of Juan Luna's 'Boceto for Spoliarium' as well as the two unsigned works on canvas by Luna and his contemporary Félix Resurrección Hidalgo, the only unsigned pieces by the masters to have successfully sold at auction, make an emphatic statement about how exceptional results are achieved. In an atmosphere of openness, transparency, and a genuine understanding of the joy of collecting – setting the standard for the way auctions are responsibly conducted in a developing market.
Juan Luna's Painting Style
While following the manner of the European masters of the time, Luna crafted his style of allegorical works drawing inspiration from the Romantics. The artworks of Juan Luna are characterized by powerful strokes full of fervor but with classical balance, often depicting figures in elegant, theatrical poses.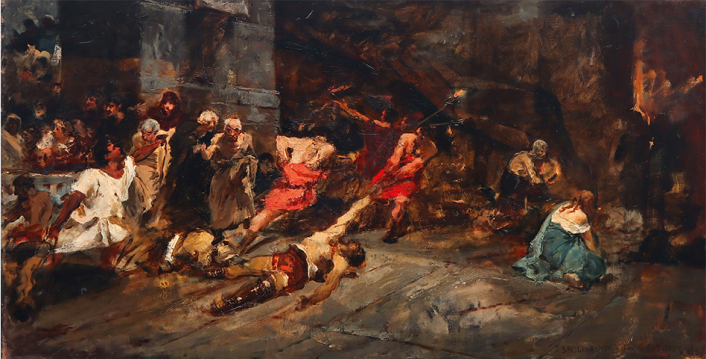 JUAN LUNA Y NOVICIO, 'Boceto for 'Spoliarium'', 1883, Oil on canvas
Literary and Historical Scenes
With iconic and remarkable masterpieces such as SpolIarium, and The Death of Cleopatra, the artworks of Juan Luna are known for his dramatic portrayals of scenes with historical, allegorical, and literary relevance to the socio-political environment of the time. Dynamic and captivating, he reimagines such scenes with a sharp focus on content. His interest in such subjects did not allow for much distortion. Instead, he painted emotionally–charged Philippine paintings of real-life individuals caught in the tangle of social ills, while still maintaining an air of dignity and exuding a grand manner. 
Political Commentary
Underneath the vigorous brushstrokes and dramatic chiaroscuro of his paintings were Juan Luna's political beliefs. At his core, Juan Luna was a staunch political activist. He believed that art could not remain just a beautiful thing — it must excite the emotions of the viewer, and inspire him into action.
Behind the canvasses of theatrically painted figures was Luna calling for action in unison with his fellow countrymen in misfortune. Jose Rizal himself interpreted Luna's Spoliarium as the symbol of the Filipinos' social, moral, and political life. Several of Juan Luna's artworks depicted humanity unredeemed, aspiring for peace, even openly fighting against prejudice and injustice.
Romanticism & Realism
A forceful, passionate man, Juan Luna stamped his personality on every canvas he painted on. With Romanticism and Academic Realism as his styles of choice, power and joie de vivre were notable characteristics of his works. It is no surprise that he drew most of his inspiration from the Romantics such as Delacroix and Daumier, from whom he learned drama, mysticism, and tragedy. The visual rhetoric of the Romantics appealed to the emotions in a broad, compelling manner — which appealed to Luna's nature. All these influences were incorporated into a style that he made his own.
Why Salcedo Auctions is the Leading Souce of Philippine Art and the Works of Juan Luna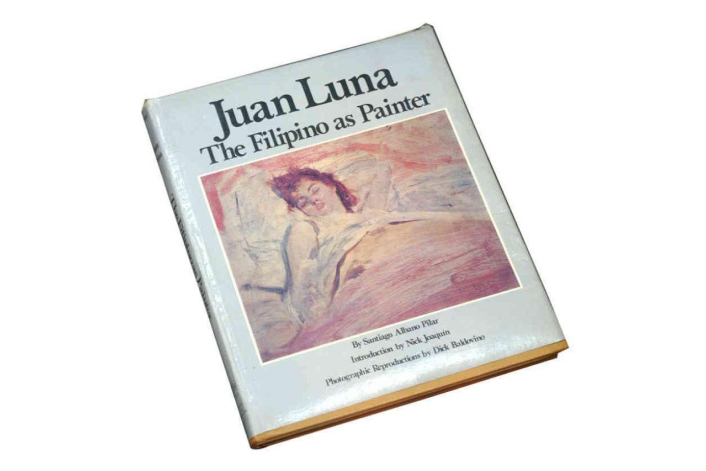 With a dedicated team of experts and their track record of integrity and service, Salcedo Auctions has grown to be the most respected name in Philippine art and the business of art. Our team works to uphold the highest standards of excellence and to provide world-class professional services to all of our clients.
Specialization
Salcedo Auctions is the only auction house in the Philippines to specialize in the consignment and sale of fine art, decorative art, jewelry, and collectibles by local and international artists and artisans. We offer pieces by the most historically significant Filipino artists such as Juan Luna, Félix Resurrección Hidalgo​​, Fernando Amorsolo, Vicente Manansala, José Joya, among other masters, as well as contemporary pieces by today's leading visual artists.
Auction Platform
As a method of sale that combines the straightforward nature of a commercial transaction with the theatricality and drama of public bidding, whether live or online, auctions are one of the most effective and enjoyable ways to peruse and procure fine pieces of art. Salcedo Auctions offers our clients the potential of better returns, as well as the rare opportunity to acquire remarkable, sought-after pieces and collectibles of exceptional worth.
Salcedo Private View
From our long-standing role as a supporter of local and international art comes Salcedo Private View. Through this gallery and private sale arm, Salcedo Auctions extends the opportunity for artists to exhibit and sell their work via private treaty sale.
Since 2014, Salcedo Private View has presented both established and emerging artists, whose bodies of work we believe to have significant cultural and aesthetic value, connecting them with a discerning wider audience.
Other Services
Aside from our primary services in the area of sales, Salcedo Auctions also offers professional written appraisals for insurance, estate and financial planning purposes, as well as basic valuations for the art market.
Selected Works by Juan Luna Artworks at Salcedo Auctions
Salcedo Auctions is known for its extensive collection and offerings of valuable pieces by 19th century Philippine masters. In the past, we have even presented and auctioned off long-lost works of Juan Luna to the delight of serious art collectors, not to mention the wider community.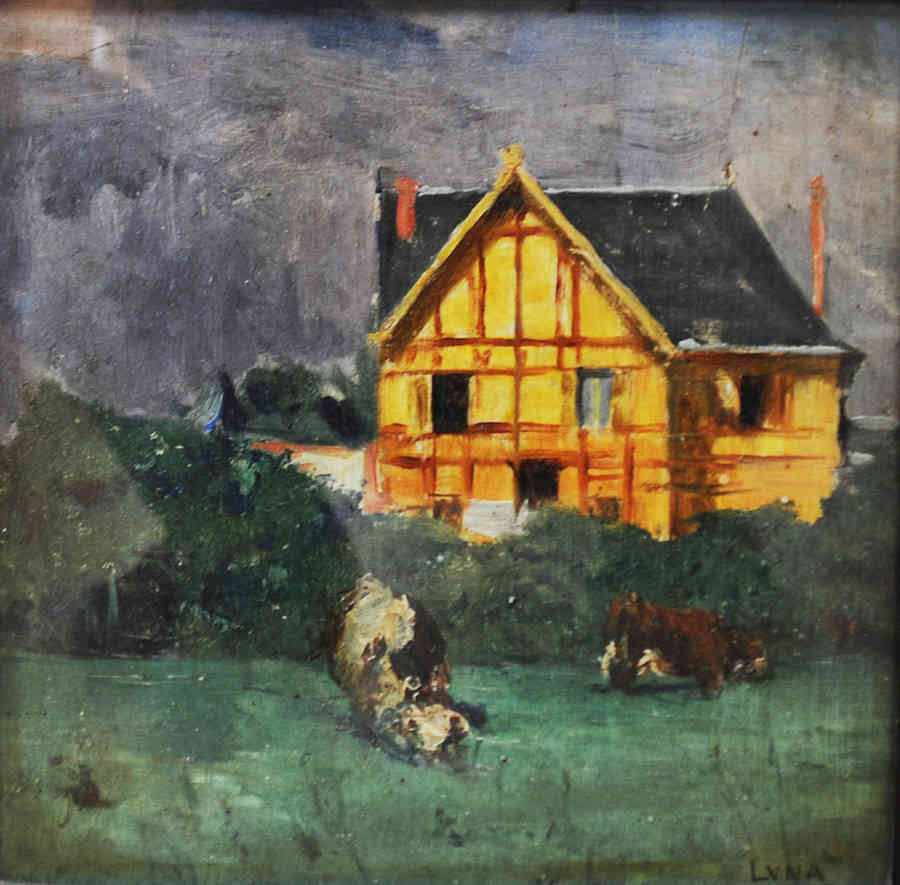 JUAN LUNA Y NOVICIO, A Farm House, Undated (c. 1890s), Oil on wood
A Farm House
A historic discovery by Salcedo Auctions Chairman & Chief Specialist Ramon E.S. Lerma, the whereabouts of A Farm House for nearly a century had been unknown, the only proof of its existence having been a photograph from the Luis Araneta collection. Uncovered in the private collection of the heirs of Dr. Ariston Bautista, this painting was auctioned in near-perfect condition, with its striking pigments of cobalt yellow and viridian in impressionist brushstrokes captivating viewers.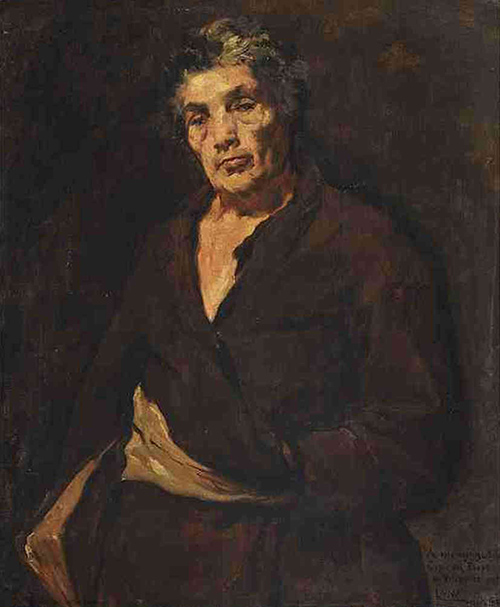 JUAN LUNA Y NOVICIO, Aesop after Velázquez, 1881, Oil on canvas

Aesop after Velázquez
This is another long-lost artwork of Juan Luna. Salcedo Auctions had the honor of appraising and auctioning this painting which was discovered by our Chairman & Chief Specialist in Geneva, Switzerland. With its sterling provenance, and infallible documentary evidence from the world-renowned Frick Museum Library in New York showing the work being photographed together with Luna in his Paris studio, it was the first-ever work by the master of major calibre to be auctioned off in the Philippines. Like his later artworks, Juan Luna appears to have imbued political commentary into this piece. We see Luna raising himself to the level of Velázquez, proclaiming himself equal to the Spanish master by appropriating his work. Luna may have also purposely chosen such a subject as Aesop was regarded as a hero of the oppressed, a story resonating with the political environment at the time. 
Peruse and Bid For Juan Luna Artworks at Salcedo Auctions
Salcedo Auctions remains to be the only trusted venue in the Philippines, and for the most part internationally when it comes to the sale of works by the 19th century masters, as seen in its extensive sale history of important and long-lost artworks by Juan Luna. 
With our expertise, dedication to our profession, and exacting due diligence standards, Salcedo Auctions brings together the finest art, furniture, decor, jewelry, watches, and collectibles from the biggest names in art as well as the world's most celebrated houses  in its sales held regularly throughout the year.
Interested in viewing our catalogue and past events, bidding at auction, or procusing our various art market services? Contact Salcedo Auctions today!
---