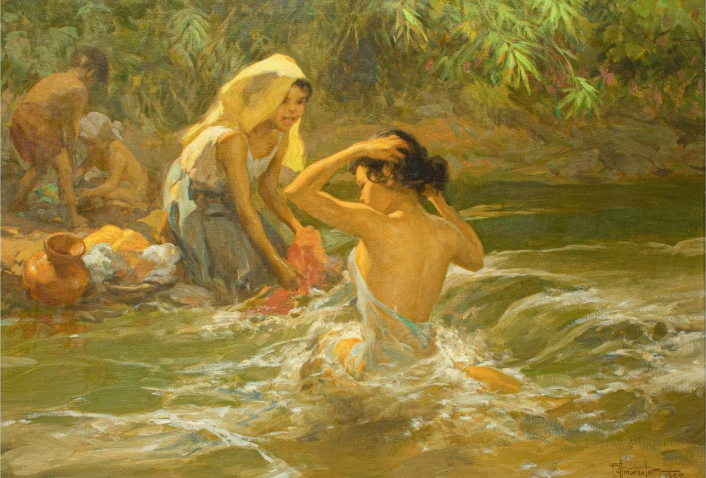 Fernando Amorsolo's Artworks: Salcedo Auctions
Fernando Amorsolo was the country's first ever recipient of the National Artist Award in the Visual Arts. He was followed by other masters – all of them significant figures in Philippine art history such as Carlos 'Botong' Francisco, Victorio Edades, Vicente Manansala, J. Elizalde Navarro, and Jose Joya. As the first National Artist, he was bestowed the title "Grand Old Man of Philippine Art". Fernando Amorsolo's artworks are best known for their masterful lighting, which imbued his canvasses with a 'golden' quality, landscapes and scenes of the countryside, in particular the image of the young Filipina country lass – the "Dalagang Bukid." Keep reading to learn more.
The Life of Fernando Amorsolo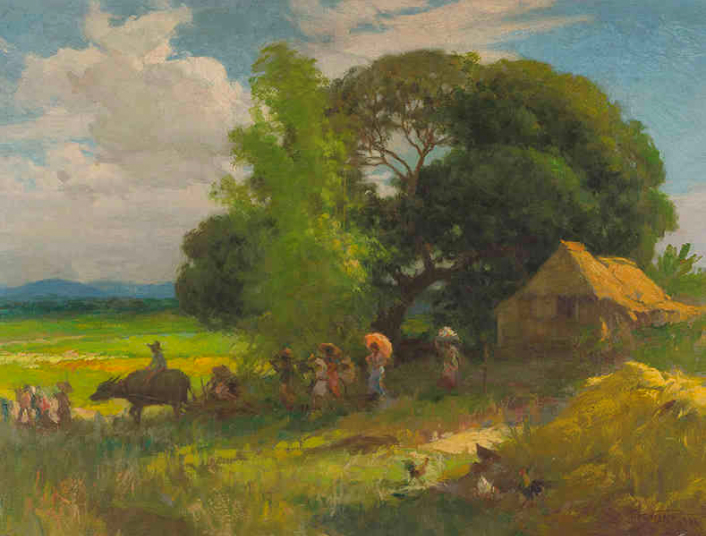 FERNANDO AMORSOLO, Untitled (Sunday Morning Going to Town), 1942, Oil on canvas
Fernando Cueto Amorsolo was born on May 20, 1892 to Pedro Amorsolo and Bonifacia Cueto. He grew up in Daet, Camarines Norte where his father worked as a bookkeeper. 
As a child, Amorsolo's hobbies included sketching. His mother immediately recognized this talent, so she would send his artworks to her cousin, Fabian dela Rosa, a well-known painter in Manila who studied at the renowned Escuela de Bellas Artes y Dibujo (School of Fine Arts and Design).
Before his father Pedro passed away, he asked his wife Bonifacia to help Fernando get a proper and traditional art education. Upon his demise, the family moved to Manila and lived with Dela Rosa. Amorsolo, who was still only 13 years old at that time, studied art under the renowned painter. To make ends meet, his mother did embroidery, while  Amorsolo's artworks were sold for 15 centavos a piece.
Soon after that, Amorsolo started his education at the Liceo de Manila. He also graduated with honors from the University of the Philippines School of Fine Arts. Due to his considerable talent, he was able to receive a grant from Enrique Zobel de Ayala to study at the prestigious Academia de San Fernando in Madrid. 
Aside from selling his fine artworks, Amorsolo also earned his livelihood by working as a draftsman for the Bureau of Public Works, as a chief artist at the Pacific Commercial Company, and as a part-time instructor and later Director at the School of Fine Arts at the University of the Philippines.  Fernando Amorsolo married twice and had 16 children. He passed away on April 24, 1972. 
Fernando Amorsolo's Painting Style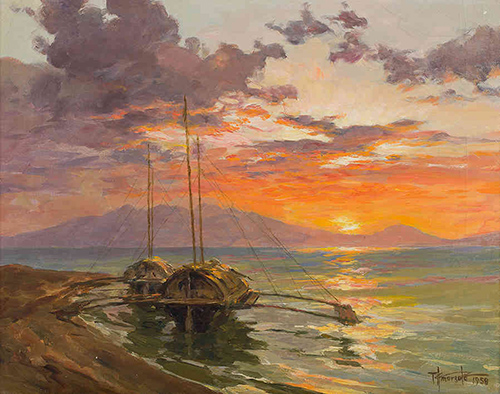 FERNANDO AMORSOLO, Sunrise, 1958, Oil on canvas
Fernando Amorsolo's artworks were heavily influenced by his environment. When he was a child, he began drawing and sketching the rural landscape that he grew up in. It is also important to note that he also featured his family as the centerpiece of many of his artworks.
During his stay in Madrid, he studied the works of European Baroque and modern artists, French Realists, Impressionists, and Post-Impressionists — with Diego Velasquez being amongst his major influences when it came to brushwork and color mastery. 
What truly set him apart from the other painters of his period was the technique he learned and developed from studying the works of Joaquin Sorolla, which involved using sunlight to achieve dramatic contrasts. Despite his Western influences, Amorsolo's artworks were still inspired by the Philippines. During the Second World War. he painted images of  human suffering in Japanese-occupied Manila. After the war, he continued his landscape paintings and also made portraits of famous personages, most notably of the Philippine Presidents. 
Fernando Amorsolo's Popular Artworks
The artworks that Fernando Amorsolo produced during his lifetime were estimated to be numbered at over ten thousand. After his time in Madrid, Americans would purchase his paintings as a souvenir of their time in the Philippines. His wartime paintings were exhibited at the Malacanang Palace in 1948. At the prime of his career during the 1940s and 1950s, he was widely recognized for his influence and talent, being conferred numerous awards and citations. 
Fernando Amorsolo Artworks at Salcedo Auctions
Salcedo Auctions has offered many Fernando Amorsolo artworks. These are mostly oil on canvas paintings, but also include drawings, lithographs, and posters. Here is a selection of these pieces: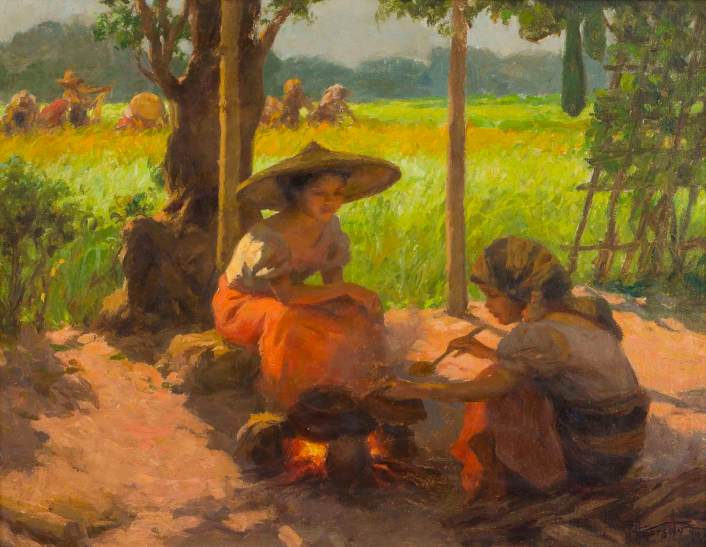 FERNANDO AMORSOLO, Untitled (Women Cooking), 1955, Oil on canvas

Women Cooking
Amorsolo depicts two poised and graceful country lasses tenderly cooking the day's meal while basking in the glow of sunset and of the fire heating their clay pot. Known for his genre scenes that romanticize Filipino pastoral life, this 1955 oil on canvas is an extremely fine example of his mastery of light.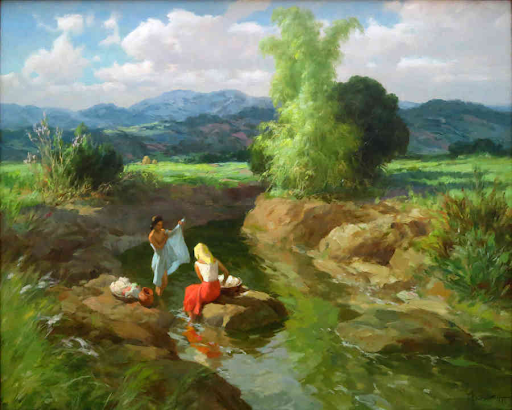 FERNANDO AMORSOLO, Las Lavanderas, 1956, Oil on canvas
Lavanderas
This painting captures the beauty of performing a simple chore, where a woman and her companions are busy at the river washing clothes. One of them has her back turned, bathing. Once again, Amorsolo shows us his masterful technique of using light to show the beauty of the environment.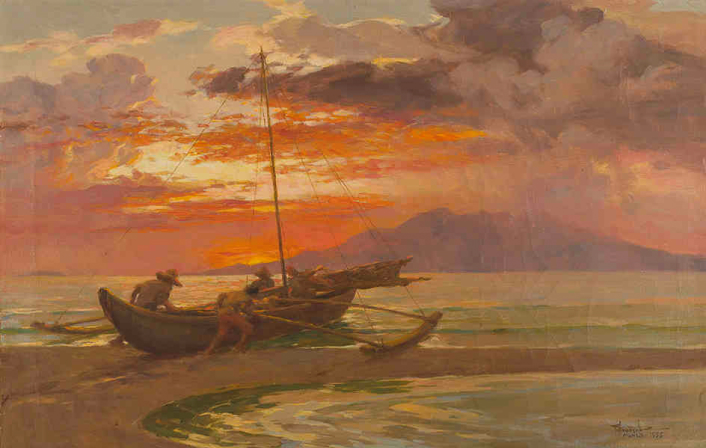 FERNANDO AMORSOLO, Fisherman at Sunset, 1955, Oil on canvas
Fisherman at Sunset
The orange of dusk paints the sky, clouds colored in soft pastel hues. They serve as the backdrop to the fishermen preparing to set sail in the receding tide for what may be their last trip of the day. Beyond the reclaimed shores, a dark storm gathers, ominously breaking the sunlight and obscuring the seafarers' way. Nonetheless the men push their boat off the sandbank. We see here then the fishermen as embodiments of determination – indomitable spirits charging forward in spite of the storms of circumstance.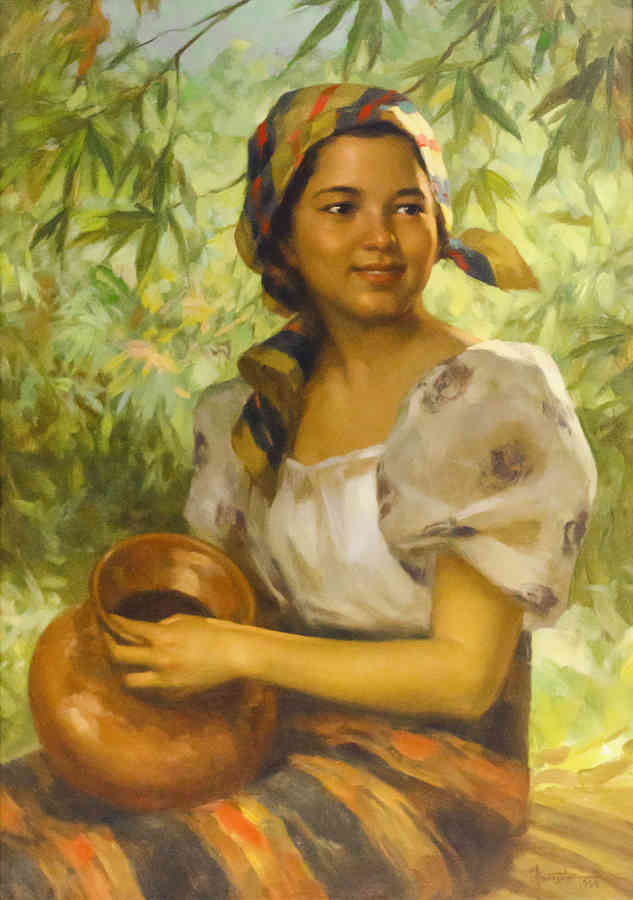 FERNANDO AMORSOLO, Dalagang Bukid, 1958, Oil on canvas

Dalagang Bukid
Arguably the most iconic subject in Amorsolo's body of work is the Filipina woman, as shown in this oil on canvas, Dalagang Bukid. Here, the Philippine provincial lass is shown smiling as she holds a clay jar, a vessel of water that is seen as a symbol of innocence and fragility. This is a reference to the song popularized by National Artist Atang de la Rama in the sarswela "Dalagang Bukid."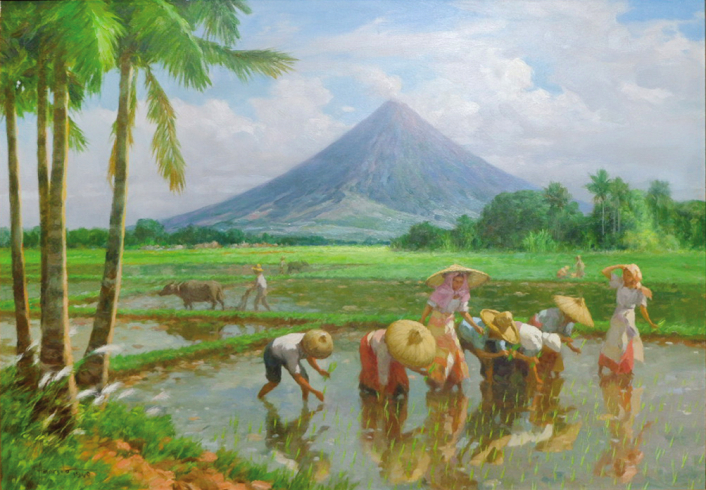 FERNANDO AMORSOLO, Planting Rice, 1949, Oil on canvas
Planting Rice
The familiar sights of men and women hand in hand working the rice field, the symmetrical cone of Mayon Volcano, the bright clothes and the salakots worn by the farmhands shielding them from the intense tropical sun, and the carabao plowing the field purposefully are masterfully depicted by Amorsolo in his unflinchingly idyllic and picturesque manner. In spite of the laboriousness of the task at hand, the artist's use of mostly pastel hues project an ineffable feeling of serenity and sheer delight in the innate charms of the countryside.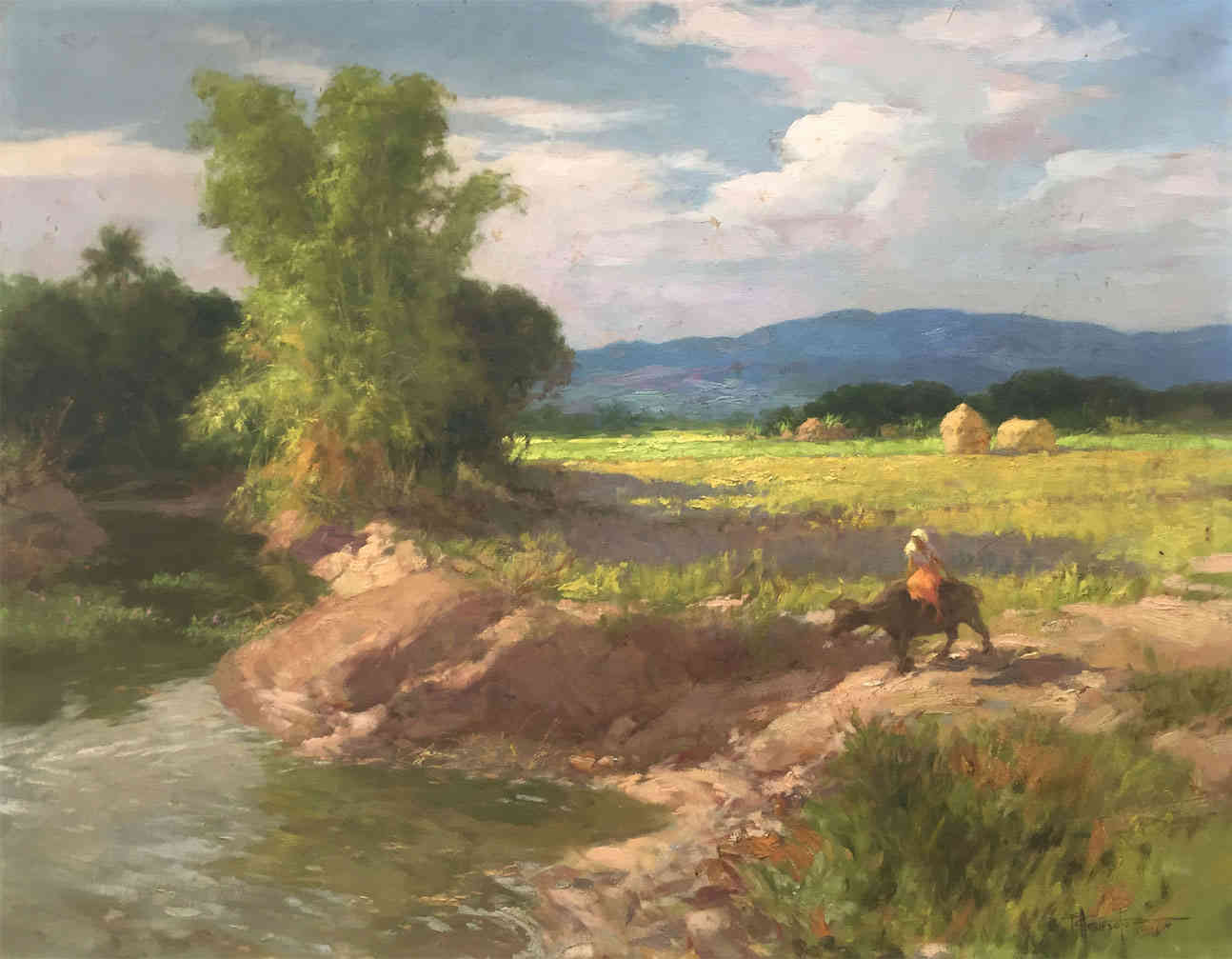 FERNANDO AMORSOLO, Marikina Valley, 1946, Oil on canvas

Marikina Valley
Showcasing mastery in Philippine genre painting, Marikina Valley encapsulates National Artist Fernando Amorsolo's genius with its crisp pastoral scene awash in the golden glow of the tropical sunlight—a vision of Philippine bucolic life in it's most idyllic state. Riding atop a sturdy carabao, a young maiden dips towards a flowing stream. Beyond, a picturesque mountainscape is outlined in the distance.
Salcedo Auctions is the Leading Source of Quality Collectibles
As the only auction house in the Philippines that specializes in fine art, furniture, decorative arts, jewelry, watches, and valuable collectibles, you can rely on Salcedo Auctions for all of your art needs. With a track record of integrity and service, we offer many opportunities for you to acquire genuine arworks by Fernando Amorsolo as well as those by other Filipino masters. 
Salcedo Auctions regularly holds auctions of Philippine art, including paintings, sculptures, and orginai fine prints. In addition it offers a wide selection of antique and modern furniture, decor such as crystal, fine bone china, sterling silver, jewelry, watches, accessories such as luxury bags, and other valuable collectibles such as rare books, maps, historic documents, and ephemera. 
The dedicated team behind Salcedo Auctions follows the highest standards of excellence and professionalism to provide you with the very best and finest objects.
Fernando Amorsolo's artworks are always included in our sales of 'Important Philippine Art;', but you can also explore the rich art history and culture of the Philippines through the works of Juan Luna, Jose Joya, Vicente Mananasala, BenCab, HR Ocampo, Cesar Legaspi, Ang Kiukok, Mauro Malang Santos, and more. 
Place Your Bid on Fernando Amorsolo Artworks at Salcedo Auctions
As a Philippine National Artist for Visual Arts, Fernando Amorsolo's paintings are desired by many. Here at Salcedo Auctions, we provide you an avenue to acquire his highly sought-after pieces through your preferred bidding method — be it in-person, live  online, or via absentee or phone. If you're interested in participating in one of our auctions held regularly throughout the year, please follow this guide.
For your questions and inquiries regarding Fernando Amorsolo's artworks, you can contact us here.
---