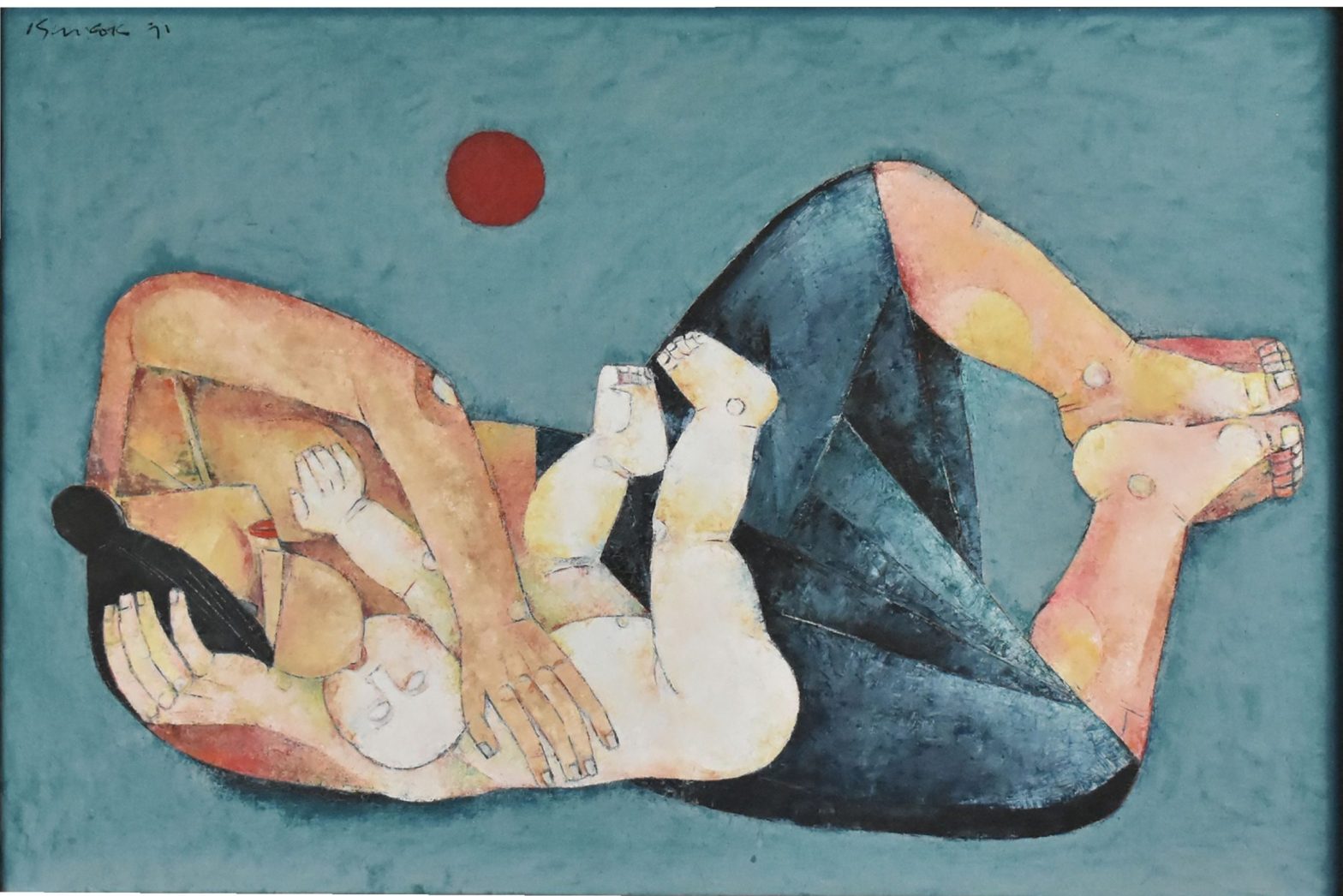 ANG KIUKOK, Mother and Child, 1991, Oil on canvas
All About Ang Kiukok Artworks offered at Salcedo Auctions
Locating himself at the epicenter of the Philippine modernist movement, National Artist Ang Kiukok explored the potential of the process, reinterpreting figures and expressions to deliver an impalpable essence. 
Ang Kiukok's artworks continue to be a significant part of the modern Philippine art scene. His influence on the development of Philippine modernism is evident in his collection of awards, the presence of his art and their astonishing results at Salcedo Auctions. He is that rare combination – exhibiting both critical and art market success.
The Life of Ang Kiukok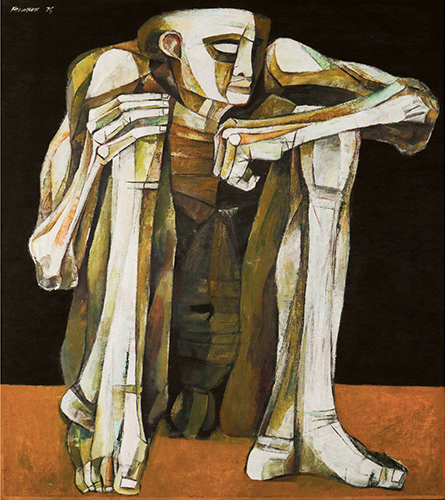 ANG KIUKOK, Man,1978, Oil on canvas

Ang Kiukok was born into a Chinese immigrant family in Davao City in 1931. He learned to make charcoal drawings at a very young age, and his earliest introduction to painting was through a local commercial painter. When Ang's family moved to Cotabato, he then began conceptualizing and creating movie billboards.
Ang went to college at the University of Santo Tomas in Manila, which at the time was considered by many to be the cradle of the modern art movement in the Philippines. While there, he was mentored by Vicente Manansala, later National Artist, and a member of the renowned group that art historians now call the '13 Moderns'. His other professors included other significant figures in the blossoming of modernism in the country such as Carlos 'Botong' Francisco, Jose Garcia Llamas, and Galo Ocampo.
Ang Kiukok's artworks were first officially recognized in the 1953 edition of the Shell National Students Art Competition, where he won third place. He launched his first one-man show at the Contemporary Arts Gallery the following year. Ang won numerous awards after that, and his career further skyrocketed after he and his mentor were influenced by the art they were exposed to on an excursion to the bustling art capital that is New York City. 
The Art of Ang Kiukok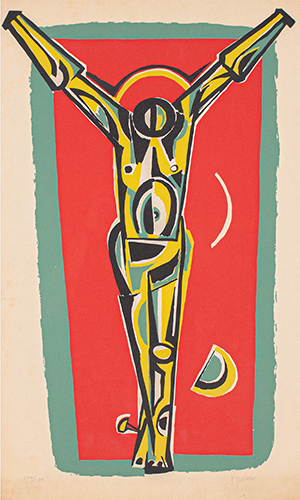 ANG KIUKOK, Crucifixion, 1971, Serigraph 142/190

Ang Kiukok, whose name in Chinese literally means "save the country," was known for his representation of harsh realities to express the social and political state of the Philippines. His works, painted in a vivid, cubistic manner, covered topics such as still-life, animals, and religious images such as Christ's Crucifixion. Ang Kiukok's art evolved as he did as a person – his works expressed his feelings and views. Ang's most famous and most influential pieces reflect his identity and what he stood for. 
Cubism, Surrealism, and Expressionism
Ang Kiukok's artworks have often been attributed to these three art movements. Described as "Figurative Expressionism", his art style draws inspiration from Cubism, Surrealism, and Expressionism. 
The most strikingly distinct of these styles is Ang Kiukok's cubist elements, representing reality in geometric shapes. As a student of Vicente Manansala, who also was well known for his own take on Cubism, it would make sense for him to use this technique. It is evident in the way he represents figures and forms in his works, a prime example of which is his depiction of a farmer in this piece, Harvest. 
Surrealism and Expressionism both deal with how the world is perceived. His artworks draw from real subject matter, but Ang Kiukok's artworks are not conventionally representational. He uses the techniques of abstraction to highligh emotion and meaning.
Choice of subject matter
Throughout history, people have used art to communicate without relying on words. Ang Kiukok's artworks often tackle a variety of subjects: dogs, fishermen, and even religious images such as the Crucifixion and the Madonna and Child. He is also known to have made art during the Martial Law period when he showed the most violent imagery in his paintings.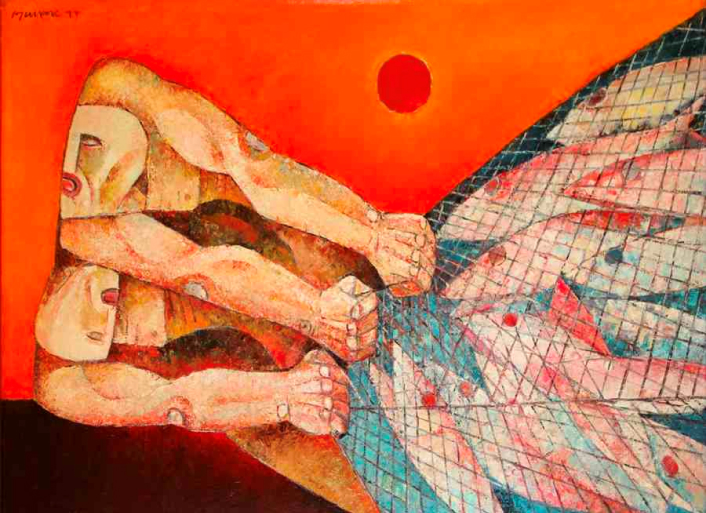 ANG KIUKOK, Fishermen, 1994, Oil on canvas mounted on wood
Awards and achievements
Ang Kiukok received the highest state honor, being proclaimed National Artist in 2001, having been recognized with accolades for several decades prior to this, his first award being given in 1953. 
Here is a list of those awards:
Third Place, Shell National Students Art Competition

Still Life

(1951), Honorable Mention, Art Association of the Philippines

The Bird

(1959), First Prize, Art Association of the Philippines

Still Life in Red

(1963), Third Prize, Art Association of the Philippines

Fish

(1963), Second Prize, Art Association of the Philippines

Geometric Still-Life Fish

(1963), Second Prize, Art Association of the Philippines

Patmabay ng Kilinangan Award (1976), City of Manila

Outstanding Almunus (1978), University of Santo Tomas

Modern Angst

(1980), Finalist, Mobil Art Awards

National Artist of the Philippines (2001)
Having earned all of these honors, Ang Kiukok has cemented his place in the history of Philippine art.
Iconic Subjects in Ang Kiukok Artworks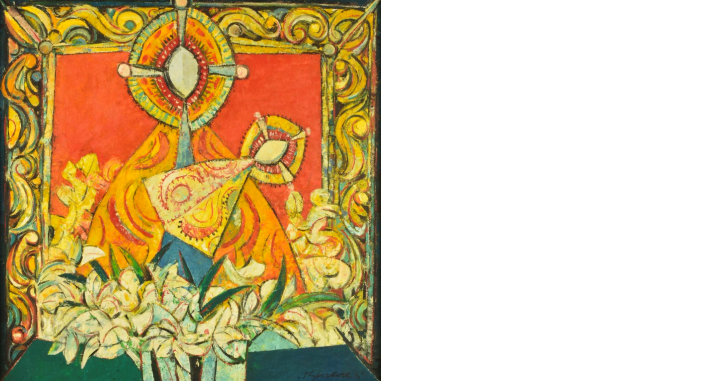 ANG KIUKOK, Rosary Queen, 1989, Oil on canvas
These are some of the most iconic and recognizable subjects in Ang Kiukok's body of work. These paintings best embody his style and mastery.
Crucifixion
Ang Kiukok's rendering of the Crucifixion is an abstraction of the scene at Golgotha. Even abstracted, you can make out the body of Christ, the Crown of Thorns, the Cross, and other elements of the Passion.
Angry Figure
An abstract depiction of an angry man holding up his middle finger. His body is distorted, and his face is screaming in anger. 
Still Life with Fish
Owing perhaps to his Chinese heritage, fish remained Ang Kiukok's most enduring animal leitmotif. Ang Kiukok's still life of fish were notable for probing into the internal skeletal structure beneath the scales. Often reduced to bare bones and fins, Ang's Fish provided a sometimes stern, sometimes disconsolate look.
Fishermen
A common subject of Ang Kiukok's artworks, fishermen are shown to be hauling a net full of the day's catch. He uses straight lines and shapes to frame the scene in a dynamic way. This artwork was sold at Salcedo Auctions.
Ang Kiukok Artworks Sold at Salcedo Auctions
As an auction house specializing in fine art, Salcedo Auctions offers the best and the finest Philippine art. The following is a selection of Ang Kiukok artworks that have been featured at our auctions:

ANG KIUKOK, Bananas, 1961, Oil and encaustic on board

Bananas
Bananas is a rare early Ang Kiukok artwork, taking the visual language of cubism and adapts it to the classical subject matter of still life. He paints reduced geometric forms of greys and warm tones, with vibrant streaks of red outline protruding from under to keep signifiers intact to the point that certain realities can still be identified. Ang's modern visualization and delivery through simple subject matter conveys a palpable feeling of detachment and meditative serenity.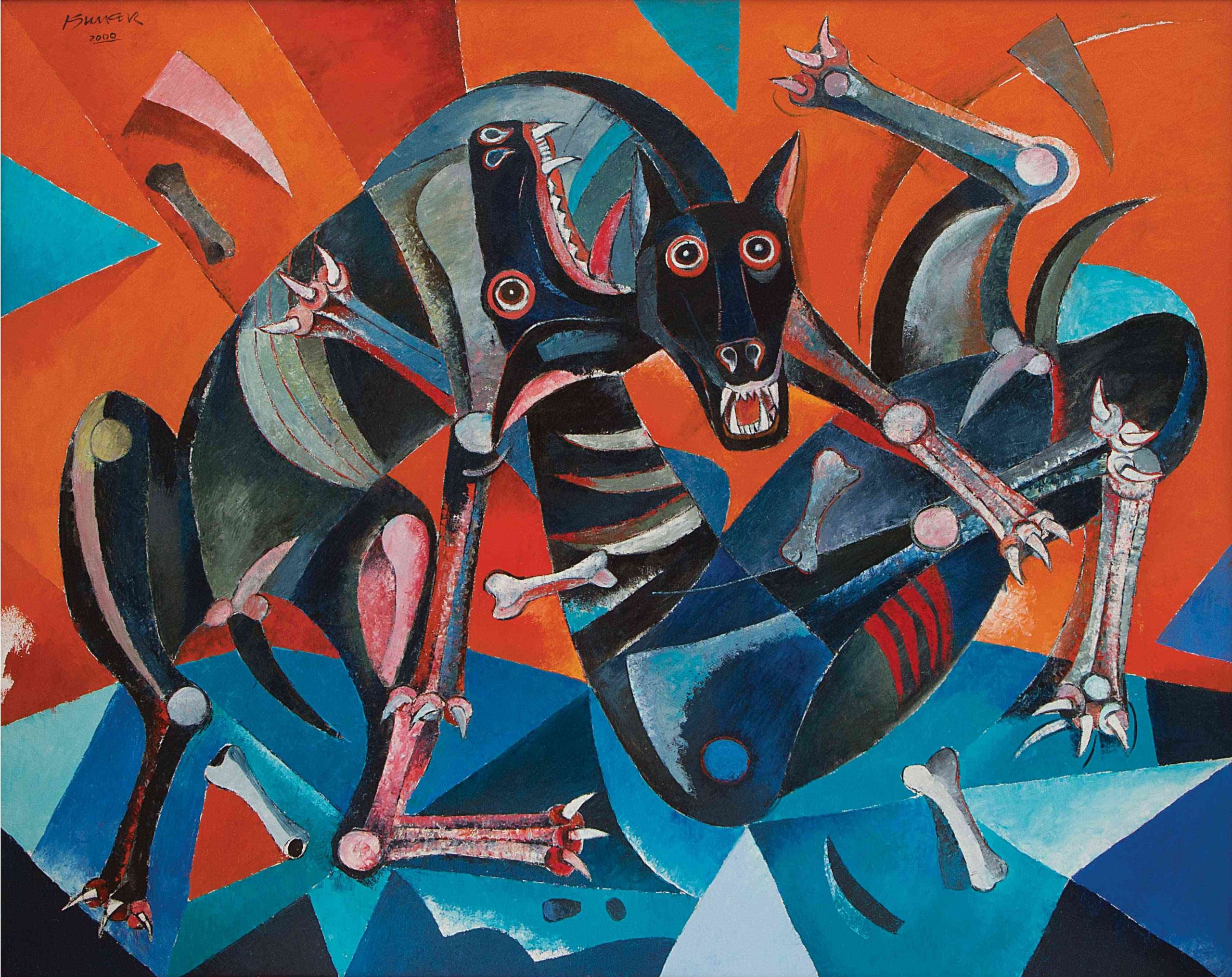 ANG KIUKOK, Untitled (Dogs, 2000, Oil on canvas
Dogs
It is not difficult to imagine how Ang Kiukok's studio – situated in a house overrun with dogs – could give birth to a series of works devoted to this animal. With glowering jaws, menacing stares, and sharpened nails poised for attack, the sense of foreboding brought to viewers by these beasts of prey is unnerving, a feeling made all the more emphatic by the deadpan settings he conjures up offset by a black moon or a sanguine sun.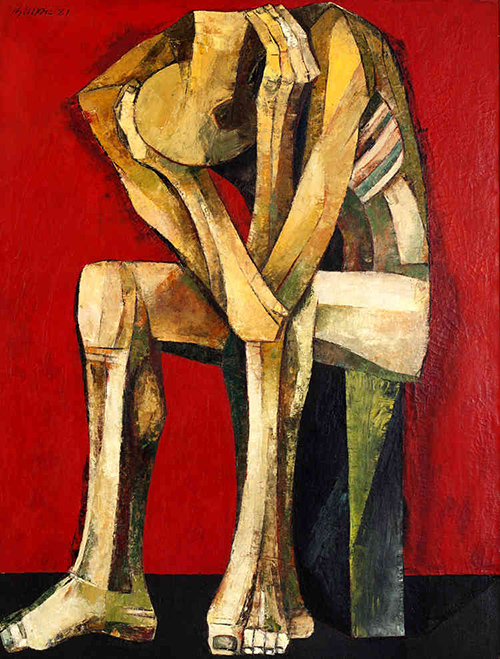 ANG KIUKOK, Thinking Man, 1981, Oil on canvas

Thinking Man
The painting Thinking Man is a highly charged presentation of contrasts, which is achieved by the rendition of the pictorial space as a smooth surface vis-a-vis the textured application of paint on the subject. The inner struggle that is presented here goes beyond the literal. In as much as the human figure calls attention by its sheer size and position on the foreground, the vivid color behind the subject does not allow it to dominate visually, maintaining its own assertive presence.
Salcedo Auctions Appraisal Services

ANG KIUKOK, Harvest, 2001, Oil on canvas
Fair Market Valuations for Estate, Insurance, and Financial Planning
As part of its suite of professional, world-class services, Salcedo Auctions offers appraisals for estate, insurance, or basic valuation purposes. As the premier destination for the country's top financial and corporate institutions as well as individuals who require fair market appraisals of their art collections, we provide a comprehensive written report that is accepted industry-wide. Professional fees apply. Inquire here.
Auction Estimates & Fair Market Value
Our specialist staff are experienced professionals who will provide complimentary auction estimates for your most prized possessions. When seeking our advice, you can rest assured that you are being given information by the most trusted name in Philippine auctions – renowned for delivering auction services at an international standard – and that you will be treated fairly.
Browse and Bid for Ang Kiukok Artworks at Salcedo Auctions
Are you planning on acquiring a work of fine art? Did you like any of Ang Kiukok's artworks? Salcedo Auctions, the country's premier specialist in fine art is here to help. We regularly offer artworks by most significant Filipino artists, including Juan Luna, Fernando Amorsolo, and more. Browse through our auctions and events here, or send us a message for any inquiries.
---