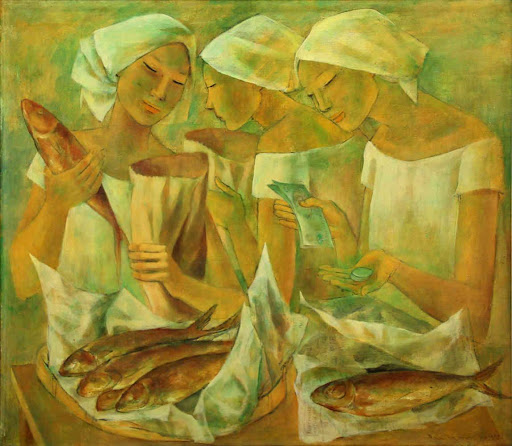 2 Award-Winning Anita Magsaysay-Ho Artworks
Anita Magsaysay-Ho, a member of the esteemed Thirteen Moderns, has cemented her name in the history of Philippine art. Her quintessential paintings depicting the Filipina, often engaged in some sort of activity, captured her vision of women in the Philippines. Once called the "female Amorsolo," Anita Magsaysay-Ho artworks are highly-acclaimed by artists and art enthusiasts alike. The nickname comes from the similarity with Amorsolo's art style and preference for women as a subject, which is not a surprise considering he was Magsaysay-Ho's teacher in the genre of landscape painting and drawings.
Ever since the beginning of her artistic journey in the University of the Philippines' School of Fine Arts at the age of 13, she had always shown promise. That promise soon translated itself into a string of awards and exhibitions throughout her life.
Here, we take a look at some award-winning Anita Magsaysay-Ho paintings and more.
Fish Vendors
Back in 1953, Anita Magsaysay-Ho won the second prize for her oil on canvas painting Fish Vendors. This early work of hers featured women doing their business around a pile of fish. As the title suggests, this is a scene of women selling and buying fish in the market.
This scene was recreated in her 1975 oil on canvas painting of the same name. The scene fits perfectly with the artist's interest in Filipino women, and the style marked the beginning of the artist's Green Period. This iteration of Fish Vendors showed clearer representations of three women selling fish amidst a green environment.
The Cooks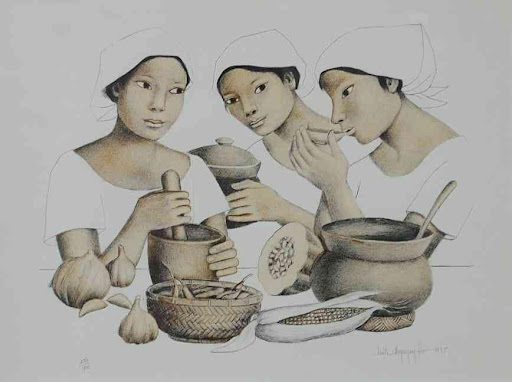 Anita Magsaysay-Ho, Cooks, 1995, Print
One of the earlier works of art made by Magsaysay-Ho won first prize from the Art Association of the Philippines in 1952, her first in the competition. She made a print of a similar name, Cooks, in 1995. It features women preparing a meal using old kitchenware. Her interest in Filipino women doing work reflects even in her earliest works, even winning awards and making a name for her.
Her other winning works include Mending the Nets in 1959, Two Women in 1960, and Trio in 1962, all from the Art Association of the Philippines.
Other Notable Anita Magsaysay-Ho Artworks
Later in her life, Anita Magsaysay-Ho focused on creating artworks on her own. Even before that, her paintings showed merit that can't be measured by any rubric, metric, or competition. She continuously created pieces that her viewers thanked her for, and deserve recognition as well. Here are some of her paintings that easily catch the eye of any observer.
Woman with guitar
Woman with guitar was painted by Magsaysay-Ho in 1950, before she even won her first award. This oil on canvas portrait shows a woman holding a guitar while sitting on what looks like a white chair. She foregrounds a predominantly blue landscape, one that oozes peace and serenity. This artwork shows the classic realist style that her early works had, unlike the post-Cubist influences of her later works of art.
Untitled (Women by the Seashore)
Painted in 1974, this oil on canvas piece portrays a group of women unfurling nets by the sea. Anita Magsaysay-Ho uses inkblot details to decorate the rock formations, making patterns reminiscent of the foamy sea. The painting has a brown, earthy haze enveloping the scene, with a hint of the blue sky peeking on the horizon.
The Many Colors Of San Francisco
The artist's favorite plant, the "San Francisco" or croton, adorns two Filipino women in this 1997 oil on canvas painting by Anita Magsaysay-Ho. Here, the two women gaze from behind the variegated foliage of green, yellow, and orange. The combination of her favorite plant and favorite subject in her art brings further life into an already vibrant painting. In the words of Magsaysay-Ho herself, she "exaggerated the size of the leaves because I wanted to emphasize how beautiful they are."
For anyone who knows her or has been studying her work, this painting will surely be the one they recognize to be full of her style and spirit. This piece serves as an important step in the artist's personal quest of capturing the essence of the Filipina. Their beauty alongside the flowers' makes for a wonderful and meaningful visual journey for any viewer.
Key Takeaway
Anita Magsaysay-Ho was a true master, making her mark and even flourishing in a male-dominated discipline at the time. Her artworks focusing on the female, on the Filipino, and giving it her own voice, creates a unique lens through which we can view the history of women in the Philippines. Her influence as an artist will surely remain treasured and unforgotten for decades to come.
If you're looking for Anita Magsaysay-Ho artworks, or other fine art pieces, jewelry, or vintage collectibles, try our collections at Salcedo Auctions! Take a look at our auctions through this link, or get in touch with us here for inquiries or a fair appraisal.
---