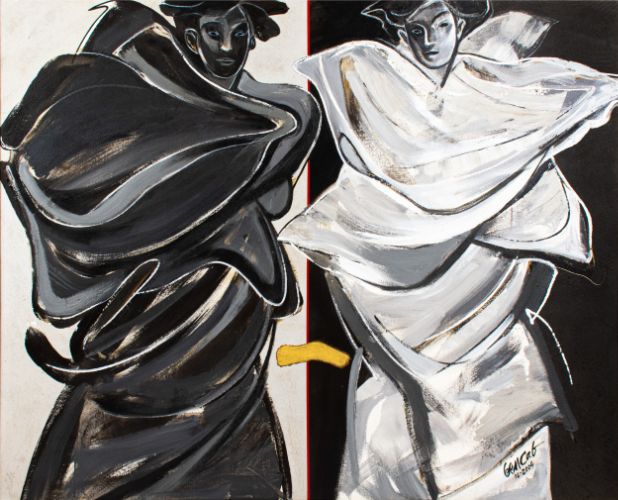 BenCab Artworks | Salcedo Auctions
Benedicto Reyes Cabrera, also known mononymously as BenCab, is one of the most influential Filipino artists of his generation. He was bestowed the title of National Artist of the Philippines for Visual Arts in 2006. 
BenCab's paintings and fine prints are highly sought after and widely collected in the Philippines and internationally.
Selected BenCab Artworks at Salcedo Auctions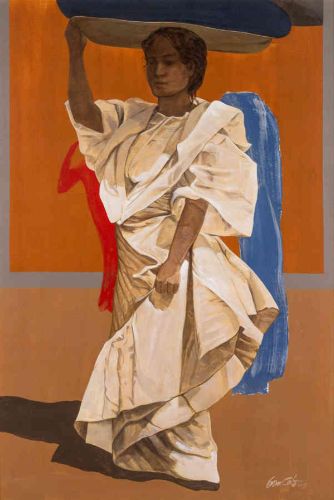 BENCAB, Untitled (from the 'Larawan' series), 2003, Acrylic on canvas
Salcedo Auctions has had the privilege of offering numerous BenCab artworks over the past decade, and many have been included in our sales of 'Important Philippine Art.' Here is a list of some of them:
Precious Child

Sabel

Sabel 9

Draped Series II

Draped Figure

La Familia

Untitled (Sampans)

Untitled (from the 'Larawan' series)
Benedicto Reyes Cabrera (April 10, 1942)
Painter, Printmaker
National Artist of the Philippines for Visual Arts 2006
Figurative Art
Life
Benedicto Reyes Cabrera, better known as BenCab, was born in Manila on April 10, 1942. He was the youngest of the nine children of Democrito Cabrera and Isabel Reyes. At a young age, his interest in art was piqued by his brother, Salvador, who was already an established artist. With his help, the door to BenCab's art life was opened.
He entered college at the University of the Philippines (U.P.) College of Fine Arts as a finalist of the Castro scholarship. He dropped out before finishing his degree. He would then go on to take several illustrating jobs for magazines and other organizations. At the same time, he was also featured in exhibits, participated in contests, and won awards both in the Philippines and abroad. 
He settled in London for a number of years where he took special studies in printmaking and sold Oriental antiques to earn a living. Then, he moved back to the Philippines for two years, only to return to London in response to the imposition of Martial Law by the Marcos regime. Upon his return, he joined the EDSA People Power movement. He then settled down in Baguio, where he also established the Baguio Art Guild (BAG) and his own eponymously named museum.
In 2006, he was granted the Order of National Artists for Visual Arts by the then President Gloria Macapagal Arroyo.
Art Style and Subject Matter
BenCab is one of the most important figures of Philippine modern and contemporary art. He is known for his figurative paintings and fine prints, bringing to life depictions of both men and women. He studied extensively to improve his art and even explored photography, dance, and sculpture. It is this passion that led to his works gaining recognition since his elementary school days, when he won an art contest in elementary school. From there, he made a name for himself and continued entering art competitions, some of which included the 12th Shell National Arts Competition and the UP Student Council Art competition. 
BenCab has been exhibited widely in the Philippines, as well as in Europe, Asia, and America. He was chosen as one of the CCP's Thirteen Artists and was named as a National Artist for Visual Arts. Because of these, he is considered a Filipino vanguard for the arts.
When he was young, he had observed and sketched a madwoman and scavenger named Sabel in Tondo. She became the inspiration of one of his most famous series of paintings, all of which had 'Sabel' in their titles. The woman symbolized despair, isolation, dislocation, and desperation. The Sabel paintings transformed through the years as his painting style transitioned. This started his production of symbolic imagery of Filipino women.
His experience under Martial Law transformed his artworks as they began to take on social commentary, with themes such as repression and the struggle for freedom. He continues to use his art to tackle social issues in the Philippines.
Famous BenCab Artworks
The fame and influence that BenCab gained throughout his life are indeed well-deserved. Have a look at some of the National Artist's most famous artworks to see why!
This exceptionally rare and important painting features abstracted forms of BenCab's most iconic subject, 'Sabel'. The artist's legendary muse, swathed in her oversized clothing over the past 50 years, has gone through several transformations: from disenfranchised vagrant and patron saint of the dispossessed to totemic exemplar of beauty, grace and, in many ways, in light of the stature of her most avid collectors, sophistication and power. The vigorous and stylized brushwork, monochromatic palette, and substantial size make this depiction of two Sabels a league apart from other depictions of the famous silhouette.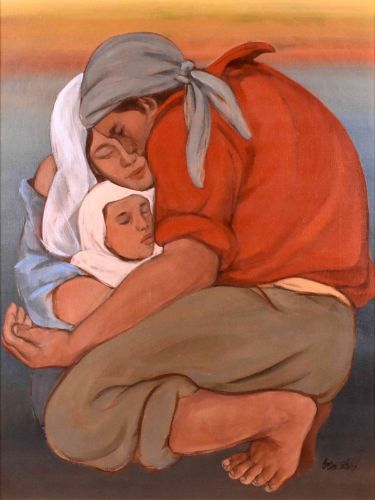 BENCAB, 'La Familia', 1997, Acrylic on canvas
'La Familia' takes us to the heart of what it means to live life to the fullest. Here, he breaks away from the need for complex discourse through visual reappropriation and the use of more expressionistic means to present a tightly composed vision that shows the perfection of family. 
History and modernity are juxtaposed, creating an alternative space within the canvas wherein both redefine one other in an anachronistic merging. BenCab appropriates early 20th century photography, recreating his subjects of yore with soft sepia acrylic strokes flanked by a neoplastic background. Through this, the past is brought back into the realm of the present, deconstructed and then repackaged into terms more contemporary to the viewer.
BenCab Artworks and Salcedo Auctions
BenCab artworks have graced our salerooms since our doors opened in 2010. We strive to offer the best and finest artworks, furniture, decorative art, antiques, jewelry, timepieces and other collectibles to our ever growing number of discerning clients. As experts in the art market, our specialist staff are here to ensure the high quality of the pieces that you acquire, as well as the best advice when it comes to selling your most valuable possessions. If you're interested in artworks by National Artists as all as those by other leading and up-and-coming artists, click here to view our auction catalogues!
---